Frequently Asked Questions - Bliss Therapy
Mar 17, 2019
About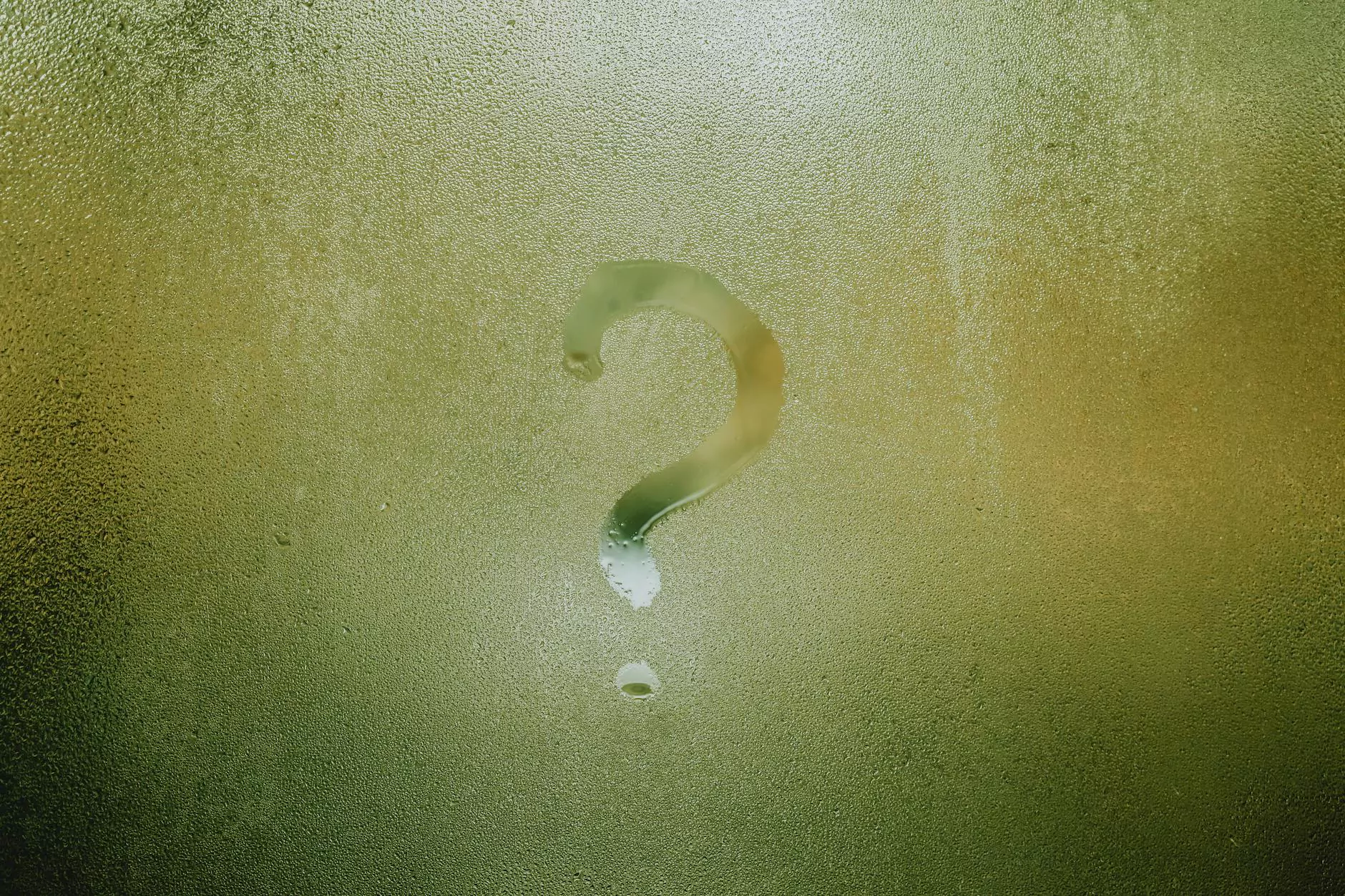 Bliss Therapy Services
Thank you for choosing The Spa's Bliss Therapy services! We are here to provide you with the most relaxing and rejuvenating experience possible. Below, you will find answers to frequently asked questions regarding our services:
1. What is Bliss Therapy?
Bliss Therapy is a unique and luxurious spa treatment offered at The Spa. It combines various techniques such as deep tissue massage, aromatherapy, and hot stone therapy to promote relaxation, relieve muscle tension, and improve overall well-being.
2. How long does a Bliss Therapy session last?
Each Bliss Therapy session typically lasts for 90 minutes. This duration allows our skilled therapists to thoroughly address your specific needs and ensure deep relaxation and restoration.
3. What are the benefits of Bliss Therapy?
Bliss Therapy offers numerous benefits for both your mind and body. Some of the key benefits include:
Stress reduction and relaxation
Relief from muscle tension and pain
Improvement in blood circulation
Enhanced mood and emotional well-being
Increased energy levels and vitality
4. Can I customize my Bliss Therapy session?
Absolutely! At The Spa, we understand that each individual has unique preferences and needs. Our experienced therapists are trained to tailor the Bliss Therapy session according to your specific requirements. Feel free to communicate your preferences regarding pressure, focus areas, and any specific concerns you may have.
5. Is Bliss Therapy suitable for everyone?
Bliss Therapy is generally safe and suitable for most individuals. However, certain medical conditions or circumstances may require caution or modification. We highly recommend informing our staff about any pre-existing medical conditions, allergies, or recent injuries so that they can provide you with the safest and most effective treatment.
Reservation and Pricing
6. How can I make a reservation for Bliss Therapy?
Making a reservation for Bliss Therapy at The Spa is quick and easy. You can either give us a call at our phone number [Phone number], visit our website, or use our convenient online booking system to secure your preferred date and time. Our friendly staff will guide you through the process and assist you in selecting the most suitable appointment.
7. What is the pricing for Bliss Therapy?
Our Bliss Therapy sessions are priced competitively to ensure exceptional value for our clients. The cost for a 90-minute Bliss Therapy session is [Price]. We also offer package deals and special promotions throughout the year, so be sure to check our website regularly for any ongoing offers.
8. Can I get a refund if I need to cancel my reservation?
The Spa understands that unforeseen circumstances may arise, requiring you to cancel or reschedule your reservation. We have a cancellation policy in place to ensure fairness to both our clients and our therapists. If you need to cancel your reservation, kindly provide us with at least [Cancellation period] notice to receive a full refund. Cancellations made within this period may be subject to a cancellation fee.
Preparing for Your Bliss Therapy Session
9. How should I prepare for my Bliss Therapy session?
To ensure you make the most out of your Bliss Therapy experience, we recommend the following preparations:
Arrive a few minutes early to complete any necessary paperwork
Communicate any specific concerns or focus areas to your therapist
Wear loose, comfortable clothing
Avoid heavy meals or excessive caffeine intake prior to your session
Remove any jewelry or accessories that may interfere with the treatment
10. What can I expect during a Bliss Therapy session?
Your Bliss Therapy session will start with a consultation with your therapist. They will discuss any specific concerns or areas of focus you have mentioned. Once you are ready, you will be asked to lie down on a comfortable massage table and the therapist will begin applying the various techniques that make up Bliss Therapy. Soft, soothing music will be played in the background to enhance relaxation. You are encouraged to communicate with your therapist throughout the session regarding your comfort level.
11. Is there an age limit for Bliss Therapy?
While Bliss Therapy is suitable for individuals of various ages, we recommend clients to be at least 18 years old to fully appreciate and benefit from the experience. For individuals under the age of 18, parental consent and supervision are required.
Additional Information
12. Can I combine Bliss Therapy with other spa treatments?
Absolutely! At The Spa, we offer a wide range of rejuvenating spa treatments that can be combined with Bliss Therapy to create a personalized spa experience. Our skilled therapists can guide you in selecting treatments that complement each other and address your specific needs and preferences.
13. Are there any side effects of Bliss Therapy?
Bliss Therapy is generally safe and well-tolerated. However, in rare cases, some individuals may experience temporary side effects such as mild soreness, redness, or fatigue. These effects are usually short-lived and will subside within a day or two. If you have any concerns or experience any persistent discomfort, please contact us, and our team will be happy to assist you.
14. Can I purchase a Bliss Therapy session as a gift?
A Bliss Therapy session at The Spa makes for a perfect gift for your loved ones. We offer gift vouchers that can be purchased either online or at our reception. Gift vouchers can be personalized and are valid for a specific period, allowing the recipient to conveniently schedule their own appointment.
15. How often should I schedule Bliss Therapy sessions?
The frequency of Bliss Therapy sessions depends on your individual needs and preferences. Some individuals benefit from regular sessions on a weekly or monthly basis, while others may choose to indulge in a treat once in a while. Our expert therapists can help you determine the ideal frequency based on your goals and desired outcomes.
At The Spa, we strive to provide the ultimate relaxation experience with our Bliss Therapy. If you have any further questions or require additional information, please feel free to reach out to our knowledgeable staff. We look forward to welcoming you and helping you achieve complete tranquility and rejuvenation!